A Cavalcade of Cinema
My Favorite Movies of the 2010s
Originally, this post would be about my top ten favorite movies of the decade. However, looking over the number of movies I loved, I realized this would be either a.) impossible or b.) take too long. Also, my policy on entertainment is that i won't check it out unless I think I'll like it. Instead, I decided it'd be better to do what I call a cavalcade of cinema.
I'm going to list off all the movies this past decade that I enjoyed. Then I'll sum up my thoughts about them in a two sentences or less. That way it's a cavalcade of cinema
Despicable Me (2010)
The start of a great new franchise and the creation of the Minions. Those little guys are so much fun.
Toy Story 3 (2010)
I have yet to fully see it, but I've seen enough clips of it online to count. Was the perfect way to cap off the franchise that started Pixar's success.
Rise of the Planet of the Apes (2011)
An infinitely better reboot than that mess in the 2000s. Was also what first introduced me to Andy Serkis
The Cabin in the Woods (2012)
A Joss Whedon and Drew Goddard masterpiece that satirizes the horror film genre. One of the few horror films I enjoy.
Marvel's The Avengers (2012)
Heralded the start of a new era of movies with an unprecedented crossover. This deserves to be preserved in the National Library of Congress for all time.
Despicable Me 2 (2013)
An improvement over an already amazing film with a great plot. Also gave us "Happy" by Pharell Williams
Book of Life (2014)
Jorge Gutiérrez perfects the art style he created with El Tigre: The Adventures of Manny Rivera in this movie that was Coco before Coco was Coco.
The LEGO Movie (2014)
A movie about one of the greatest line of toys of all time was awesome enough. Also, it's what introduced me to Chris Pratt.
Star Wars: The Force Awakens (2015)
As much as I criticize the Sequel Trilogy, I admit that it did give us some great new characters. Thus, it gets on this list. However, it also killed off Han, and I'm convinced its because Harrsion Ford didn't want to play Han Solo anymore.
Jurassic World (2015)
Another Chris Pratt success whilst serving as a soft reboot to the classic 1990s franchise. The fact that most of the park's sponsored by corporations is so realistic.
Dragon Ball Z: Resurrection F (2015)
This film saw the return of one of the most iconic villains in anime history, gave him a godlike new form, and did the same for Goku and Vegeta. The best part is that Frieza comes back for a third time later!
The Martian (2015)
It's Castaway meets Saving Private Ryan in space. Matt Damon was amazing in this film.
The Peanuts Movie (2015)
The first new addition to the legendary Peanuts franchise in years. It captures the magic that made Charlie Brown and his friends so beloved in the first place.
Captain America: Civil War (2016)
Started off Phase 3 of the MCU with as big a bang as possible. It functioned as a mini-Avengers film and served as our introduction to the best live-action Spider-Man to date.
Your Name (2016)
One of the most romantic and surreal films I've ever seen in my life. I can't sit through the ending without feeling tears welling up in my eyes.
Deadpool (2016)
This film made me acknowledge something that I tried to deny for years: Deadpool can be pretty funny. It also made Ryan Reynolds one of my favorite actor's.
Sausage Party (2016)
This film's like if South Park decided to make a satire of Pixar movies, complete with humorous messages about life and learning to find meaning in it without relying on others. Also, the ending is hilarious.
Doctor Strange (2016)
Benedict Cumberbatch gives us our first true dive into the mystical side of the Marvel Universe as Doctor Strange. It also introduces an important Macguffin for Infinity War.
Get Out (2017)
This is one horror film that you have to see in order to fully understand. Jordan Peele's a master of the genre
Isle of Dogs (2018)
A true masterpiece of stop-motion animation. That sushi making scene alone is a work of art.
Black Panther (2018)
A cultural phenomenon that takes a good, hard look at the legacy of Western intereference on Africa. Michael Jordan's role as Erik Killmonger remains one of the best villains in the MCU, as he has very genuine reasons to hate Wakanda
Avengers: Infinity War (2018)
Marvel did the impossible by juggling almost all of its roster in one of the most ambitious crossover films ever made. The ending will leave you with your mouth hanging open in shock.
Spider-Man: into the Spider-Verse (2018)
A love-letter to Marvel's poster boy and one of the greatest heroes of all time. I couldn't stop listening to "What's Up, Danger" for days afterwards.
Ready Player One (2018)
Pop Culture: The Movie, and I loved every minute of it.
A Beautiful Day in the Neighborhood (2019)
Tom Hanks effortelessly slips into the role of Mister Rogers and reminds us of how a little kindness can change the world for the better. We need another Mister Rogers.
Apollo 11 (2019)
An incredible, minute by minute documentary of one of the defining moments in human history. It comes out just in time for the 50th anniversary.
Detective Pikachu (2019)
I'm convinced that Ryan Reynolds took this job so he could reference it in the next Deadpool movie. However, that doesn't stop it from being the best movie based on a video game that I've ever seen.
Avengers: Endgame (2019)
No words can properly describe the level of excitement from this culmination of eleven years of films. Go watch it on Disney+!
Dragon Ball Super: Broly (2019)
BROLY. IS NOW. CANON. Nuff said.
Steven Universe: The Movie (2019)
If there was a way for a TV Movie to win an Oscar, then I would want it to be this movie.
Joker (2019)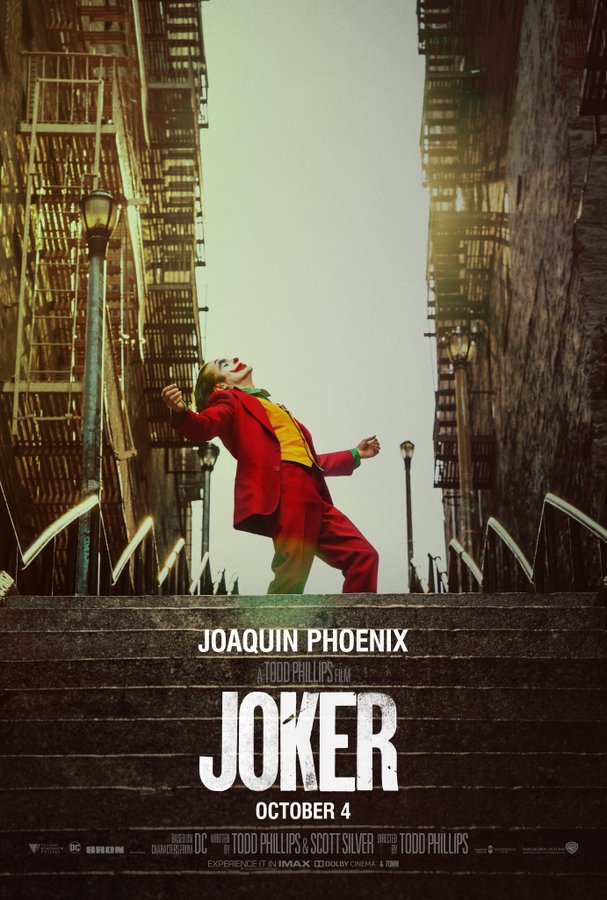 It's dark, depressing, and nihilistic, yet I couldn't stop watching it. For the first time since Heath Ledger, we have a Joker. Jared Leto doesn't count.
Klaus (2019)
One of the best Christmas movie's I've seen in years
Cavalcade of Cinema
Agree with my cavalcade of cinema picks? Let me know your cavalcade of cinema in the comments down below! Happy New Year!
Click here to see more stuff recapping past years.
Click here to see my reviews for various films.